Cast Iron Cinnamon Rolls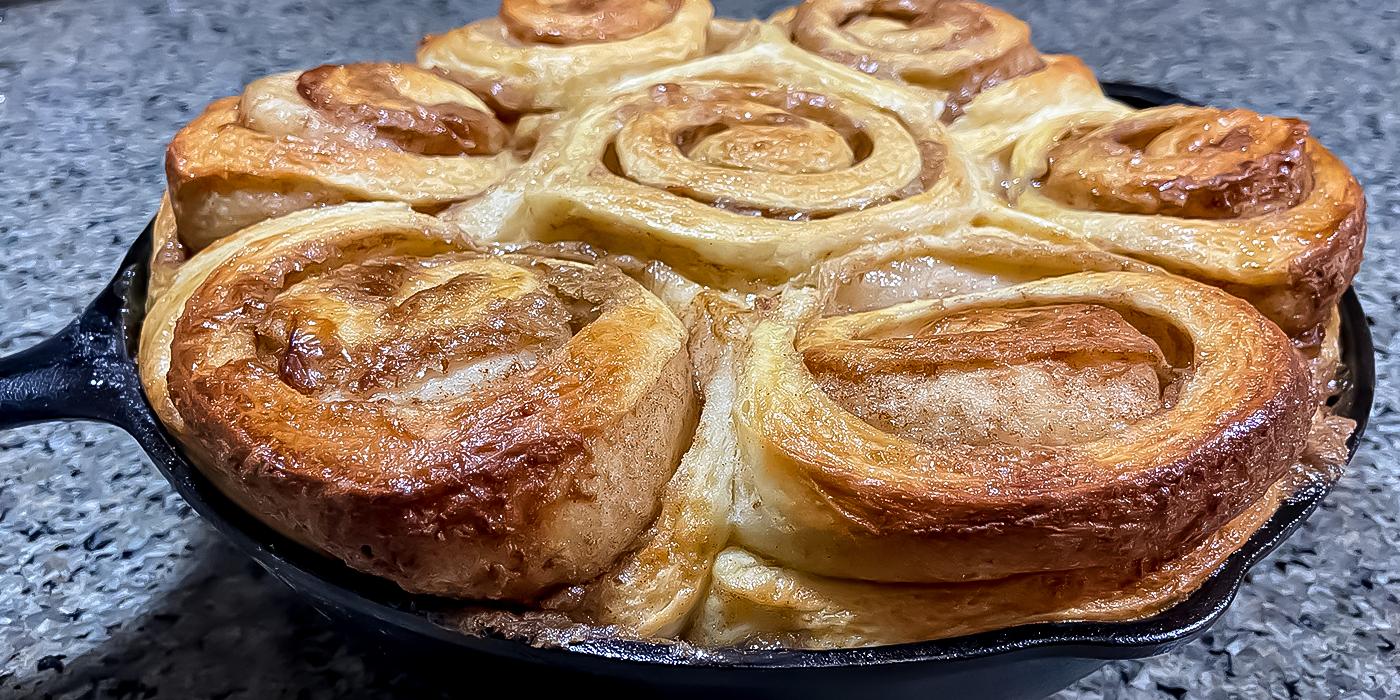 January 12, 2022
This is how we ROLL in our Out Door Ovens! Cinnamon buns once baked, and flipped out of the pan will ooze that caramel glaze onto your plate. Top yours with white icing, cream cheese frosting or a sugar glaze. Whatever it is topped with, we can ensure you that this will be that perfect compliment to any meal, breakfast or dinner.

Ingredients
1 cup warm water (105° to 110°)
1 (¼-ounce) package active dry yeast
4 tablespoons sugar, divided
2 cups bread flour
2 cups all-purpose flour, divided
1½ teaspoons salt
½ cup canola oil
1 large egg, lightly beaten
2 teaspoons vanilla extract
1 cup firmly packed light brown sugar
1 tablespoon ground cinnamon
½ cup brown butter, melted
2 tablespoons sugar

Instructions
In a small bowl, combine 1 cup warm water, yeast, and 2 tablespoons sugar; let stand for 5 minutes.

In a medium bowl, combine bread flour and 1 cup all-purpose flour, remaining 2 tablespoons sugar, and salt, whisking to blend.

In the bowl of a stand mixer fitted with a paddle, combine yeast mixture, oil, egg, and vanilla.

Gradually add flour mixture to yeast mixture, beating until smooth after each addition. Add remaining 1 cup all-purpose flour, beating to make a soft dough. Turn dough out onto a lightly floured work surface; knead until smooth and elastic, about 3 to 5 minutes. Place dough in a lightly greased bowl, turning to grease top.

Cover, and let stand in a warm place (85°), free from drafts, until doubled in size, 1 to 1½ hours.

Punch dough down; cover, and let stand for 15 minutes.

Lightly spray a 10-inch cast-iron skillet with nonstick cooking spray. Set aside. In a small bowl, combine brown sugar and cinnamon.

On a lightly floured surface, roll dough to an 18x10-inch rectangle. Brush dough with melted brown butter. Sprinkle with brown-sugar mixture, leaving a 1-inch border on long side of dough. Tightly roll up dough jelly-roll fashion, starting at long side and pressing edge to seal. Cut into 1 to 1½-inch slices.

Place, cut side down, in prepared skillet. Cover, and let rise in a warm place (85°), free from drafts, until doubled in size, approximately 1 hour.

Once your PINNACOLO oven coal base has been set, make sure your oven walls, and floor are above 350° (general rule of thumb is 15% hotter when cooking in an outdoor oven, you want it to be slightly hotter inside than your convensional oven).

Bake cinnamon rolls until lightly browned, 25 to 30 minutes. Drizzle Cinnamon Roll Glaze over tops of warm rolls.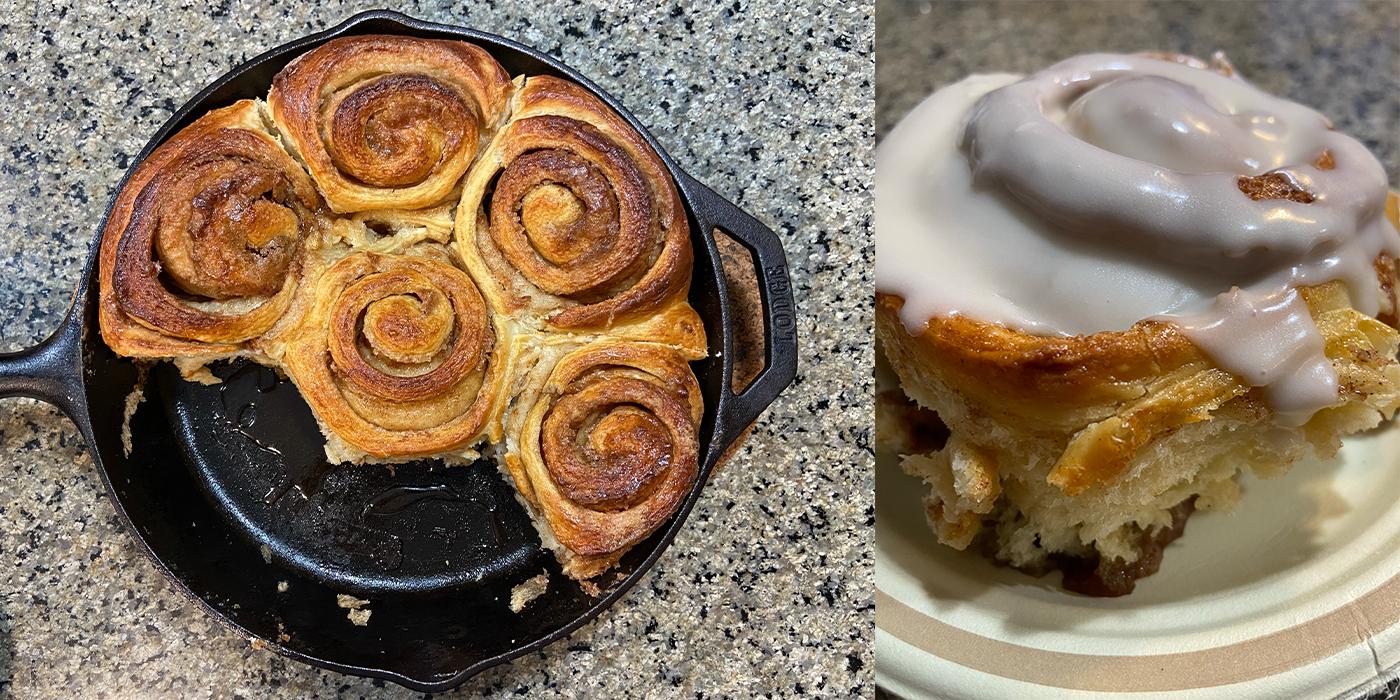 < Back To Recipes